With less than two weeks until the federal government could begin defaulting on its debt, House Speaker Kevin McCarthy faces pressures over his battle with President Joe Biden on raising the debt ceiling.
The deadline of June 1 set by Treasury Secretary Janet Yellen is two weeks away, leaving McCarthy less than a week to give lawmakers 72 hours to review a bill before a vote on the House floor, as he promised earlier this year.
Speaking to the press on Tuesday about his demands, McCarthy attacked the Democrats' economic record, and in particular Yellen's comments about inflation.
The Claim
At a press huddle with House Speaker Kevin McCarthy, recorded on Tuesday, May 16, he said: "Every economist will tell you, everybody warned us about it, and then unfortunately even the treasury secretary lied to us about it, said it was transitory when it caused more damage and harm to every American."
The Facts
Biden faces blowback over the ongoing talks to raise the debt ceiling among voters, with a poll published earlier in May showing support for his position had waned.
Although 58 percent of Americans agreed with his position that debt payment and federal spending cuts shouldn't be packaged together, that support had weakened by 7 percentage points since February.
Republican plans to raise the debt ceiling only if the administration agreed to spending cuts were supported by 26 percent of respondents.
Although the president held talks with McCarthy on Tuesday to discuss the matter further, the House speaker's comments to the press this week, which attacked the administration's approach on spending and inflation, indicated little sign of compromise or waiver.
Setting aside his accusation that she had "lied" about the nature of inflation, McCarthy's comments about Yellen spoke to this too, but he did not explain the context under which the treasury secretary's remarks were made.
During a May 2021 White House press conference, asked about the risk of an inflationary cycle amid businesses struggling to hire workers, Yellen said: "I really doubt we're going to see an inflationary cycle, although I will say that all the economists in the administration are watching that very closely."
Yellen added that while she expected "somewhat higher inflation over the next several months" she added that would be "a transitory thing, not something that's associated with a buildup in wage—in wage pressures."
These comments were made more the nine months before Russia's invasion of Ukraine, which contributed to driving global inflation from energy and supply shortages across the world.
In the 12 months ending March 2022, consumer inflation jumped to 8.5 percent, the fastest rate it had increased in more than 40 years.
March's year-on-year inflation rate was higher than February's rate of 7.9 percent, which did not take into account most of the price increases that occurred after the start of the Ukraine conflict.
At a June 2022 Senate finance committee hearing, Yellen admitted saying inflation would be "transitory" was a mistake but added the invasion and pressures caused by COVID-19 had weighed on the economy.
"When I said that inflation would be transitory, what I was not anticipating was a scenario in which we would end up contending with multiple variants of Covid that would be scrambling our economy and global supply chains," she said.
"I was not envisioning impacts on food and energy prices we've seen from Russia's invasion of Ukraine."
Yellen went on to say that she could have "used a better term than transitory."
Newsweek has contacted representatives of Kevin McCarthy via email for comment.
The Ruling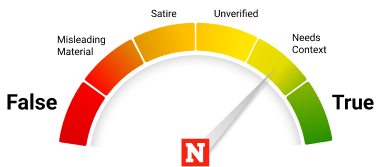 Needs Context.
Janet Yellen did say in 2021 that she believed U.S. inflation would be "transitory."
However, her comments were made more than nine months before Russia's invasion of Ukraine, which drove a rise in domestic and global inflation.
At a Senate finance committee hearing in June 2022, Yellen said that while she could have used "a better term," it was made without anticipation of the Ukraine conflict and its effect on the U.S. economy.
FACT CHECK BY Newsweek's Fact Check team