Vladimir Putin has said world leaders who mocked his notorious shirtless photoshoot would look "disgusting" topless.
G7 leaders, including Canadian Prime Minister Justin Trudeau and European Union President Ursula von der Leyen, poked fun at the Russian president at a summit in Germany on Sunday.
Asked about the jokes, Putin told reporters on Thursday: "I don't know how they wanted to get undressed, above or below the waist," he said. "But I think it would be a disgusting sight in any case."
The Russian leader said that to look good, "it's necessary to stop abusing alcohol and other bad habits, do physical exercise and take part in sports."
During the G7 summit, British Prime Minister Boris Johnson referred to 2009 photos of a bare-chested Putin riding a horse during a visit to Siberia's Tuva region.
As the world leaders sat down for their first meeting of the three-day summit on Sunday, Johnson asked: "Jackets on? Jackets off? Shall we take our clothes off?"
"We all have to show that we're tougher than Putin," Johnson joked, suggesting the G7 leaders should "show them our pecs."
"Let's wait for the picture," Trudeau responded, adding: "We're going to get the bare-chested horseback riding display."
"Oh yes. Horseback riding at its best," von der Leyen chimed in.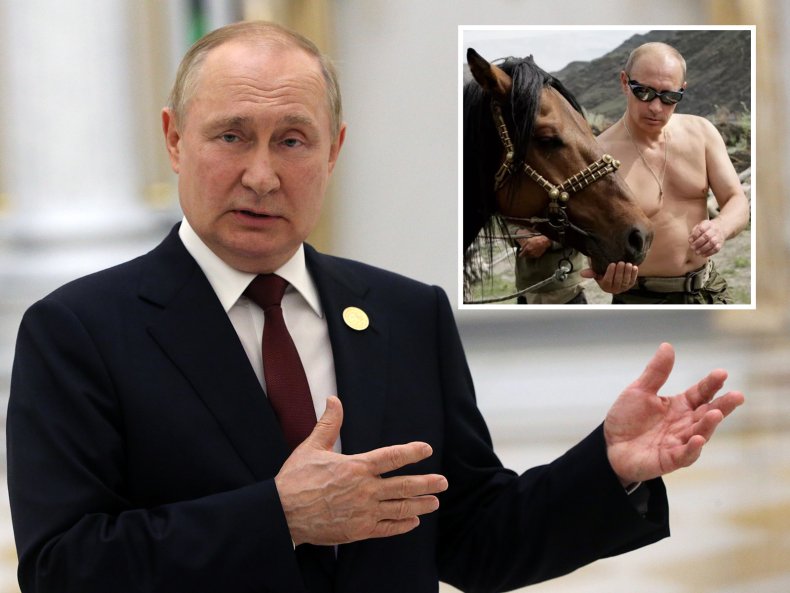 Putin on Thursday continued: "In any case, if you remember [Russian poet Alexander] Pushkin, I can make a mistake in the words in the details, but I think he said that you may become a man of business and think of beauty of the nails," Putin continued. "So I definitely agree with that."
"Everything in a person should be harmoniously developed, both soul and body."
The photographs ridiculed by the G7 leaders come from a photoshoot when Putin was 56 years old and Russian prime minister—before officially returning to the presidency three years later.
They were taken during a trip to a nature reserve in the southern Siberian region of Tuva, which borders Mongolia, and shown on state television.
Two years before that shoot, in August 2007, Putin was photographed shirtless fishing in a mountain river in the same region.
Putin also said Thursday that Russia is open to a dialogue on "ensuring strategic stability" and nuclear non-proliferation, and "improving the situation in the field of arms
control."
He also rejected Johnson's suggestion that if he were a woman, he would not have invaded Ukraine. Putin pointed to former British leader Margaret Thatcher's decision to send troops into the Falklands four decades ago.
"So, a woman decided to start hostilities. Where are these Falkland Islands and where is Britain? And this was dictated by nothing less than imperial ambitions, confirmation of its imperial status," Putin said.
"Therefore it's not an entirely accurate reference from the British Prime Minister to what is happening today."
Putin added, "No one really remembered anything about the military operations for the Falkland Islands in connection with the military actions in Ukraine."
Newsweek has contacted the spokesperson for the European Council President for comment.