Given the recent liquidity crisis in the banking sector, the number could be an important driver in the Federal Reserve's next move on March 22.
As per our annual outlook,
"The Federal Reserve is overly optimistic about inflation declining back to 2%."
Also from Outlook are Three interesting notes:
After inflation crosses 8%, it proceeds to higher levels over 70% of the time
Once inflation is above 8%, reverting to 3% usually takes six to twenty years, with a median of ten years
The lesson we should take from this is not that inflation is destined to move to new highs in the months ahead (after all, nearly 30% of the time, it is, in fact, cresting!), but that we dismiss that possibility at our peril.
Expectations for CPI are for a softer number than last month, or around 6%. However, what if the number comes in more like 6.5%?
The -to- ratio is important to watch.
More from the Report:
"For 2023, one word and two expressions keep coming up: The gold-silver ratio represents the number of silver ounces it takes to buy a single ounce of gold.

Historically speaking, the gold-silver ratio has rested somewhere between fifteen and ten to one, reflecting the average supply of each metal.

The ratio is most useful at its extremes. When the ratio topped eighty, it signaled a time when silver was relatively inexpensive in relation to gold.

Silver went on to rally 40%, 300%, and 400% the last three times this happened."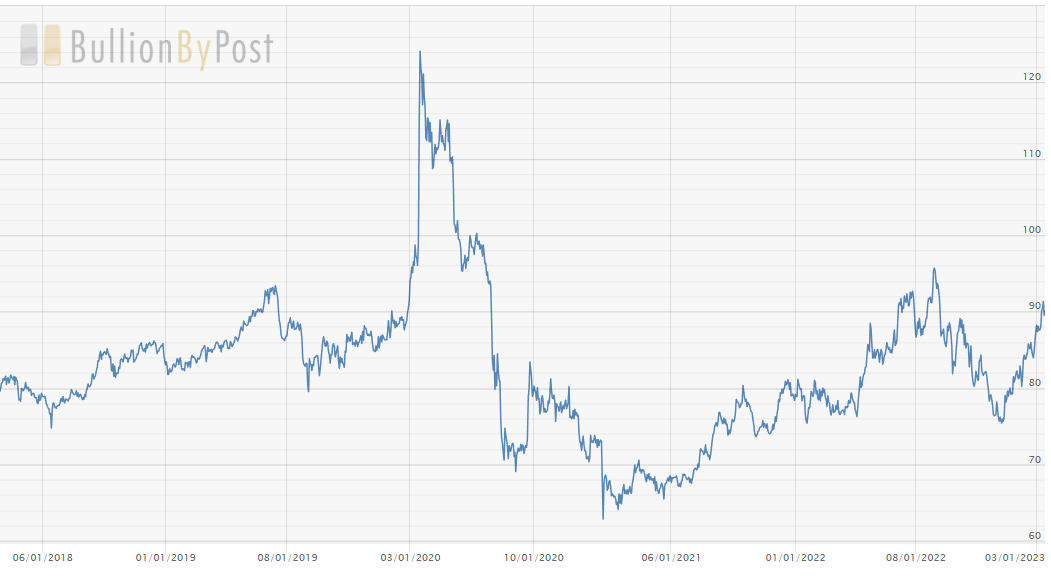 The price chart of silver (iShares Silver Trust (NYSE:) shows it gapping above the 200-day moving average or green line.
The middle or Leadership Triple Play indicator gauges SLV's performance relative to gold. SLV has yet to cross the red line to begin to outperform-a highly inflationary sign if it does.
The bottom Real Motion Indicator shows an increasing momentum yet is still below the 50-DMA, like the price: no divergence between momentum and price at the moment.
The second chart is a 5-year historical look at the gold-to-silver ratio. Many analysts believe a move over eighty is bullish for silver.
The huge run in 2020 was based on stimulus money and the Reddit crowd focusing on SLV as a meme stock.
Subtract that, and you can see that over 90 is bullish for silver. Over 100 and off we go bullish for the metals. And more alarmingly, a flashing signal on rising inflation.
ETF Summary
(SPY) 390 served us as good resistance, so a level to watch
Russell 2000 (IWM) Landed on an important calendar range support level at 172.00
Dow (DIA) Not a key bottoming pattern 310 support 324 resistance
Nasdaq (QQQ) Crossed back above the 50-DMA, so 290 is important!
Regional banks (KRE) Held support and oversold, so let us watch 50-51
Semiconductors (SMH) 240-tested but not cleared-however still the strongest sector
Transportation (IYT) Unconfirmed Distribution Phase making 223-224 pivotal
Biotechnology (IBB) 126.50 moving average resistance
Retail (XRT) 60 big support and 64 big resistance